Finding the desired 3D models for free is a quite difficult task, also it is time taking. But to make it easy for you, we shortlisted some of the best Free 3D Model Download Sites for Blender from where you can download high-quality 3D models completely free.
There are hundreds of 3D model sites out there, but we only listed the most essential sites which let you download the 3D models for free without any gimmicks. You can check out the table below that will help you navigate the preferred site quickly.
---
BlenderKit is an incredible platform that provides free access to amazing high-quality 3D models. It offers both free and paid content, with either a royalty-free or a CC0 license.
The best part of BlenderKit is most of the good stuff is free here, also it has a huge collection of 3D models that covers almost all categories, varying from low-poly to ultra-realistic models. Also, the paid plan is extremely cheap and works on a subscription basis. Rather than paying for every individual model you download, it is better to get a subscription that gives access to all the paid stuff.
You will not only get free models, but also get access to other 3D materials such as Textures, Brushes, Addon, HDRIs, and more. The main reason we listed BlenderKit at the top is that it can be directly integrated into Blender. With the BlenderKit plugin, you can directly import the required materials directly into Blender without the need of opening the browser.
---
Poly Haven is a wonderful platform to Download free 3D models for Blender. All of the materials in Poly Haven have a CC0 license, which means you can use them in any manner without any restrictions.
Poly Haven is a great place to download hyper-realistic 3D models, here you'll find 3D models of Furniture, Decorative Items, and Lighting.
Like any other site, you don't have to sign-up to download any of the materials. You can simply download the desired 3D model without providing any of your personal details, also the site is simple and easy to navigate.
---
When it comes to Low Poly models, Creazilla is the only place that we recommend. It has an excellent collection of Low Poly 3D models for Blender, and that too for completely free. Because it is an Open Source platform, you don't have to go through any sign-in process to Download from here.
Along with low-poly models, it also has many furniture 3D models as well, but the eye-catching thing about Creazill is its low-poly models only. It has highly optimized 3D models which are ready to use in any Game Project, and all the assets come with a Creative Commons license, which permits you to use them in any manner.
---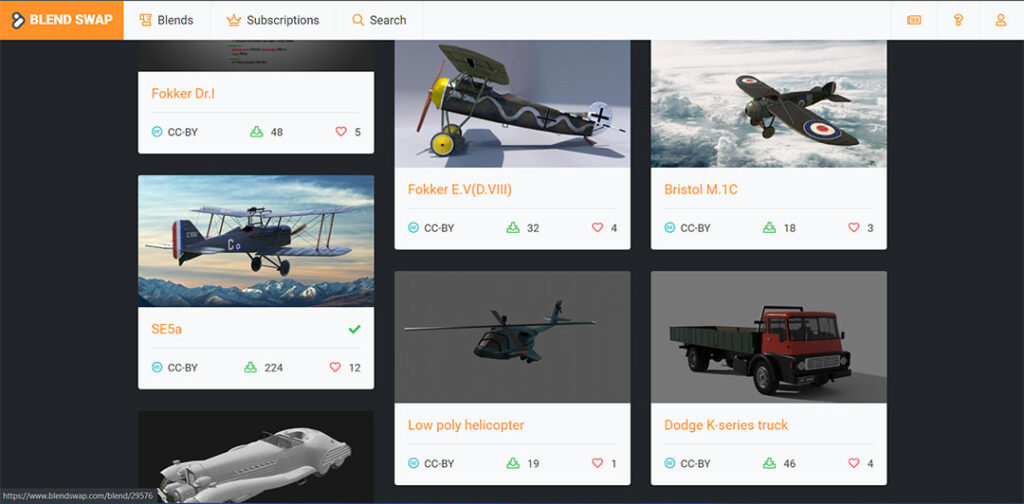 You might not have heard about BlenderSwap, but is one of the finest places to Download absolutely free 3D models for Blender, which you can use without any restrictions.
BlendSwap is a site dedicated to Blender that offers free 3D models and doesn't require any sign-up. It contains a lot of interesting 3D assets, although most of them are 3D vehicles and basic rigged human models.
BlendSwap has a large user base, and it has evolved from a 3D asset download site to a community where users may share and download 3D assets.
---
Open3DModel has some incredible 3D assets, and everything you see here is free, but the site is frustrating to navigate, and it's full of ads and you hardly get to see the Download button, which instantly makes you unhappy.
But even after these many disadvantages, it is one of the best places to get full body rigged 3D models for completely free. It has many undressed 3D models, which you may not get on other sites. If you ever want to download an undressed human 3D model for Blender, then Open 3D Model is the best place.
---
Blender Boom is a perfect place to get minimalistic interior models for free. As the name suggests, it only contains files that are compatible with Blender, and it has both paid and free services.
Here you'll find many great 3D assets, including interiors, furniture, environment, and others. But unfortunately, the environment 3D models are not free. However, the free interior 3D models are good enough to make you satisfied.
---
DownloadFree3D has a great collection of free vehicle models. It contains all types of vehicles, including, Car, bikes, spaceships, Boats, Tanks, tractors, Military Vehicles, and more.
It is the only source which is dedicated to Vehicle 3D models where you'll get all kinds of 3D vehicles in one place. DF3D also has other types of 3D models as well, but it is famous for vehicles only, which is worth visiting.
---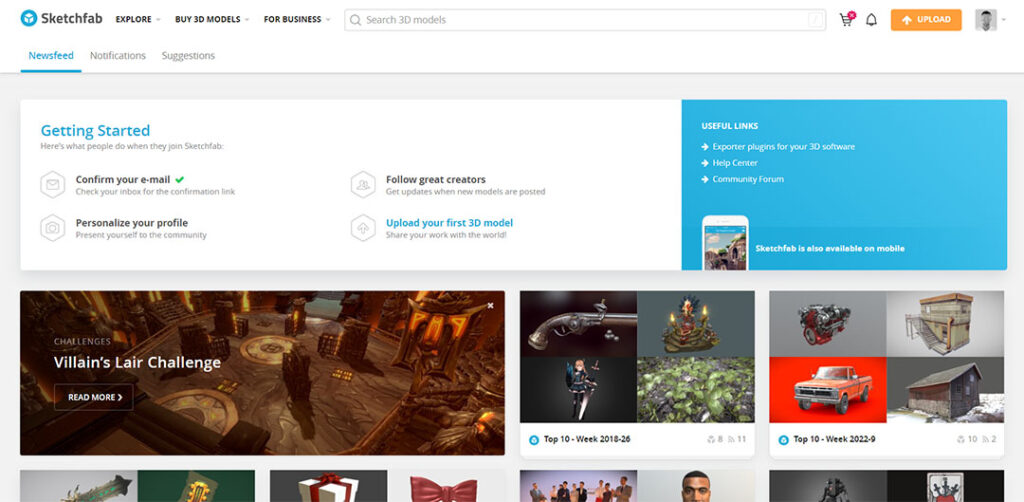 Sketchfab is the best place to Download PBR models, it is an amazing source to get free Character models. Sketchfab is quite popular already, and it has both free and paid stuff, and here you'll get highly optimized characters.
It has a huge collection of 3D models, ranging from Toon to Hyper-realistic Character models. The website is easy to navigate and use, also you can filter free models separately.
Sketchfab has a Royalty-free licensing system, and when it comes to free Character 3d models, it is the best source that we recommend. Sketchfab requires sign-up to Download anything, and if you are an expert, you can also sell your models here.
---
CGtraders is the place where you get high-quality rigged 3D models for free. It is similar to Sketchfab, where both free and paid models are available, and CGtraders also allow you to sell your models.
All the models available on CGTraders contain a Royalty-free license, and it not only has rigged characters but also contains many game-ready assets which you may find useful. Although there are many different places to Download 3D models, the reason to choose CGtraders is because of its wide collection of models.
It has more than 30,000+ 3D models supported for blender alone. CGTraders site navigation is so simple, and the data is well organized that you won't face problems in navigating to the right content.
---
It's a Shutterstock-powered 3D model download service. It offers a wide range of free 3D models that work with Blender, including both free and premium models. TurboSquid doesn't have a defined genre, thus all types of models were thrown together in one location. It is a recommended source for 3D models of electronic devices and architectural models.
Frankly, it doesn't have any specialty, it is similar to other 3D model Download sites listed above, but the primary reason it is being listed here is that it also has some free 3D models that you can download and use for your personal project.
---
Free3D is yet another source to find free 3D models. It has both free and paid materials, and it is a good source to download Toon Character and Vehicle models.
Most importantly, don't get fooled by its name. The name says Free3D, but it doesn't mean everything is free here, when you visit the site, you will find many things are paid there, and there's no option to sort/filter the free models.
Still, it's a good place to get Toon Characters for free, also you can download the free models without sign-up. But the disadvantage is, the downloaded models are limited to personal use, and you cannot use them for commercial purposes.
---
It is a simple content download site where you can download free 3D models for Blender. It has very little content compared to other sites listed above, and many of the 3D models are uncategorized which makes it difficult to find the one you are looking for. The only reason we listed this site is that all of the 3D models are completely free.
---
Clara.io has a wide range of free 3D models, and when you visit the site for the first time, at a glance you will find the models are of cheap quality, but actually they aren't. Clara has high-quality 3D models, but on the site, they seem too poor because of the scrappy rendered thumbnails.
It has a mixed collection of 3D models which support other 3D software as well, and by the thumbnail, you can't figure out whether it supports blender or not. Also, the 3D assets are for personal and educational purposes only. But since it is user-generated content, you can use it anywhere with the publisher's permission.
---
Blender Nation is the best place to find Sci-Fi Furniture 3D models for free. Basically, it is not a Free 3D model Download site, it's a medium to publish and promote your 3D work, and you won't find a direct download button below any models, instead, you will be redirected to an external source.
You will find so many great assets here which are all dedicated to Blender, also the content is organized to get all the required packages in a single post, which means, if you want a Sci-Fi Furniture 3D model for Blender, you will get all the models which fall under the Sci-Fi Furniture category in a single post.